Sita Dahal, the wife of Prime Minister and Maoist Centre Chairman Pushpa Kamal Dahal and his "comrade-in-arms" for five and a half decades, died in Kathmandu on Wednesday morning. She was 69 and suffering from multiple conditions for the past few years. Norvic International Hospital, where she was taken to on Wednesday morning, cited a cardiac arrest as the cause of her death.

She had long been suffering from Progressive Supranuclear Palsy along with Parkinsonism, Diabetes Mellitus-II and hypertension, and was taken to the hospital following a deterioration in her health, the hospital said in a statement.

According to the prime minister's personal physician, Professor Dr Yuvraj Sharma, Dahal suffered a cardiac arrest at 8:00 am and subsequently failed to respond to all medical treatments and breathed her last at 8:33 am. "Despite resuscitation, she could not be revived and [was] declared dead at 8:33am," read a statement signed by Dr Sharma.

According to party insiders, Sita started having health complications after the death of her only son, Prakash, on November 17, 2017. Later, Dahal took her to India, Singapore and the United States for treatment.

She had also received treatment at the Johns Hopkins Hospital in Baltimore, US in 2020 and prior to that at a hospital in Singapore in June 2018.

Sita Dahal was cremated at Pasuhpati Aryaghat with state honours the same afternoon. Prime Minister Dahal and their daughters Renu and Ganga lit the funeral pyre.

Top leaders of the major parties including Nepali Congress President Sher Bahadur Deuba and CPN-UML Chairman KP Sharma Oli, among others, attended the funeral at Aryaghat. The prime minister could not control his tears as he lit the pyre of his wife of 54 years.

Tributes poured in from various domestic and foreign leaders including Indian Prime Minister Narendra Modi. "Extremely saddened to learn about the demise of Mrs Sita Dahal. I express my condolences to @cmprachanda and pray that the departed soul finds eternal peace. Om Shanti," Modi tweeted in both Nepali and English.

Deputy Prime Minister and Minister for Home Affairs Narayan Kaji Shrestha shared his memories of her with the Post: "I first met Sita Bhauju in 2047 BS when they used to live in the Bagalamukhi area [in Lalitpur] and I have since known her up close."

"She was the pillar underpinning the success of Prachandaji [Dahal's nom de guerre]," said Shrestha, who is also the vice-chair of the CPN (Maoist Centre).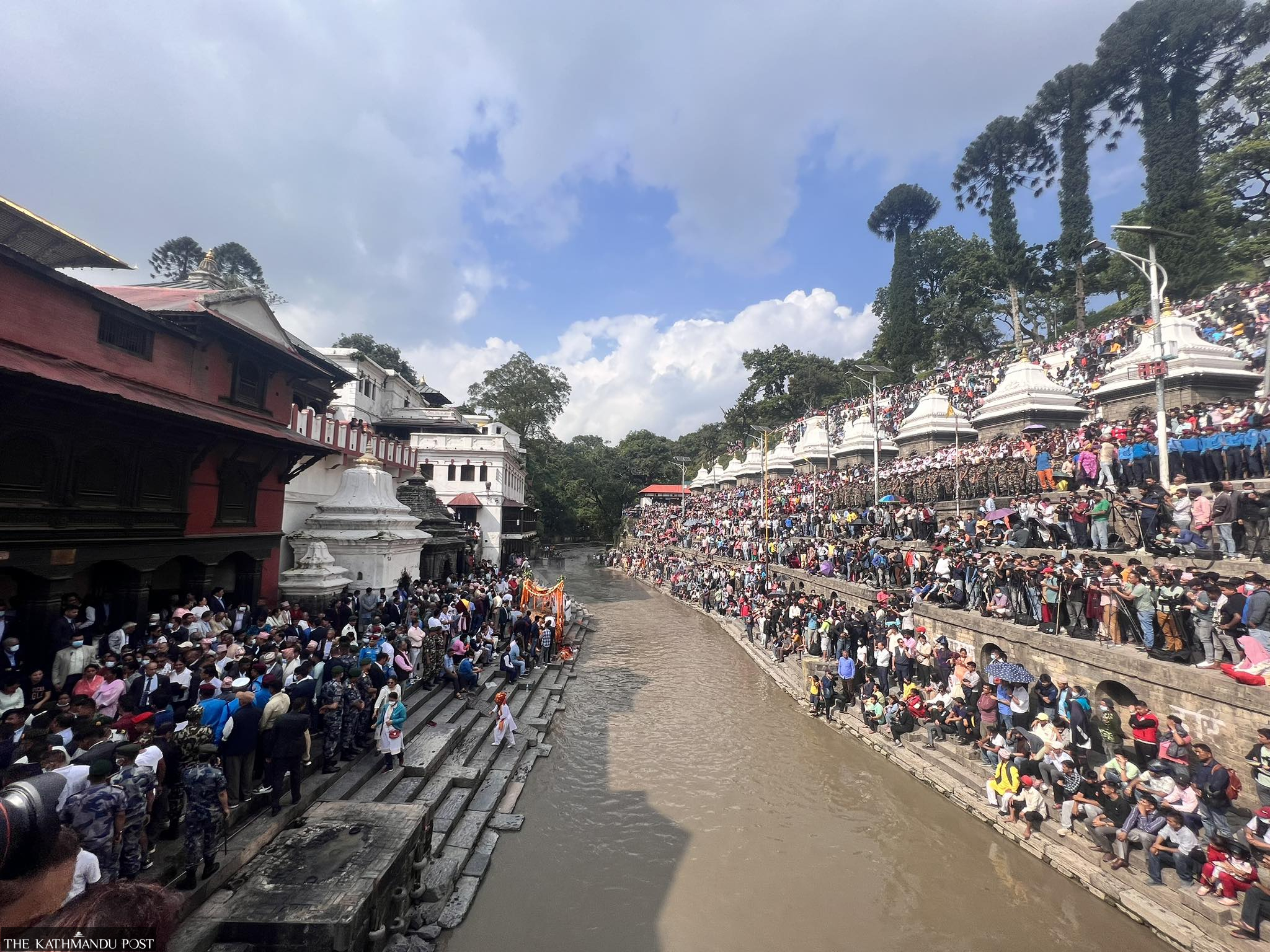 Crowds of people line the banks of the Bagmati River at Pashupati Aryaghat in Kathmandu to attend the cremation of Sita Dahal, the wife of Prime Minister Pushpa Kamal Dahal, on Wednesday afternoon. She was 69 and suffering from multiple conditions for the past few years..  Elite Joshi/TKP
Sita, born to a middle class Poudel family in Hemja of Kaski district, was married to Dahal of Dhikurpokhari of the same district in 2026 BS at the age of 15. She was then studying in grade 10.

Shortly after their marriage, Dahal came to Kathmandu and enrolled at the Patan Multiple Campus for higher education. In the meantime, Sita, at their home in Kaski, gave birth to their first child, Gyanu, the daughter who died of cancer in March, 2014.

After studying in Patan, Dahal went to Chitwan to pursue graduate studies in agriculture, and then, accompanied by Sita, to Gorkha to teach at a school, according to several memoirs and biographies of Prime Minister Dahal. He then joined leftist politics and went underground in 2038 BS. Initially, he was with the Nepal Communist Party (Masal).

"Sitaji extended full and consistent support to Prachandaji during the [1996-2006] people's war," said DPM Shrestha. "Sitaji had a vital role in the making of Prachanda."

After joining politics, Dahal would go out of contact with the family for months while Sita took care of their children at home. But later, Dahal, although underground, took along his family wherever he went.

"She brought up their children during difficult times including during the people's war," Shrestha added. "Besides taking care of the children, she was also involved in the communist movement. I have heard from friends that she would even mediate to resolve disputes among party leaders. When Prachandaji and we parted ways in 2050 BS after we could not resolve the differences, we cried together."

Sita lost her daughter Gyanu in 2014 and son Prakash in 2017. The death of their sole son, Prakash, weighed heavily on her and this was when she developed Parkinson's disease, a progressive disorder that affects the nervous system. As the disease progressed, she became bedridden. Most of the Maoist leaders who worked with Dahal and knew Sita closely said that she was committed to the communist movement.

Former Prime Minister Baburam Bhattarai, who used to be Dahal's deputy during the 'people's war' years, said that despite several ups and downs, he and Dahal have always enjoyed good relations, and the same is true of the two families.

"I have known Prachandaji and Sitaji since 2048 BS and we have always maintained family relations in the past 32 years," Bhattarai said. "We were together in several ups and downs including during the people's war. She always supported us when we were struggling and helped keep the party together."

Bhattarai added, "Sitaji was a simple, ordinary Nepali woman and had a very good understanding of politics and was fully committed to the communist movement."

One Maoist leader said that despite being close to power following the 2008 elections when the CPN (Maoist) became the single largest party through the first Constituent Assembly elections, she was never interested in making any kind of monetary gains. "Sitaji never involved herself in bureaucratic affairs such as transfers, promotions or appointment of officials for which you can get a lot in kickbacks," the Maoist leader said. "She was different from other spouses of past Nepali prime ministers."

Kalpana Dhamala, central committee member of the Maoist Centre, said that Maoist party's rank and file saw Sita as a guardian of the organisation.

"Today, we lost a guardian," Dhamala said. "The entire party is in shock."